Tooling Made Right
Problem:
In food production facilities, there is a lot of wasted product, packaging and inefficiencies. In addition, there are a lot of workplace injuries due to main elements of the job in working with such industrial equipment.
Solution:
Our system allows operators to easily change tooling with a dramatically decreased risk of workplace injuries. In addition, this design leads to more efficient processes that increase uptime and decrease rework.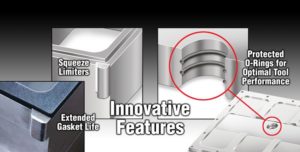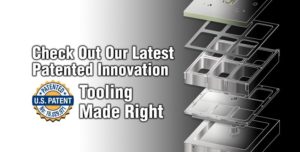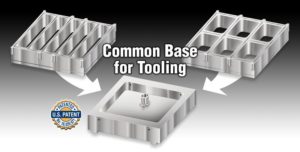 Innovative Features:
Withstands Rough Handling
Casted Heaters – No colarads and minimal wiring
Squeeze Limiters – Sealing Tool feature that extends seal gasket life
Easy Changeover – Removable weight is reduced dramatically
Available for any Horizontal Form/Fill/Seal Packaging Machine
(Multivac, Tiromat / GEA, Repak / Reiser, RapidPak, Rollstock, VC999)
Increased Versatility – Bucket base accepts tools with differing indexes and configurations
O-Ring Security – O-rings are seated inside the connection hole for the nozzle and are protected.
A Tooling Change You Won't Regret:
Tooling changeovers lead to many workplace injuries. Even without the injuries, this process leads to unnecessary downtime. In traditional sets of tooling, the o-ring surrounds the entire perimeter of the base, which is easily damaged due to rough handling. This impacts the overall performance of the tools. Routine maintenance is not enough to solve these constantly occurring problems.
We call this innovation "Tooling Made Right" because we designed our system with production facilities – and specifically operators – in mind. With our design, operators only need to change out a fraction of the tool. The versatility of our design allows for a variety of package sizes (different configurations and indexes) to fit on the same base. In addition, we put squeeze limiters on the sealing tool which extends the life of the seal gaskets. This leads to more reliable and improved sealing for a longer duration. All of these features lead to substantial cost savings. Our clients experience an immediate increase in uptime, decreased down time, and improved overall efficiencies.
US Patent #10,273,028